Hamilton dominates Down Under
McLaren star on top as Ferrari rivals lose out in Melbourne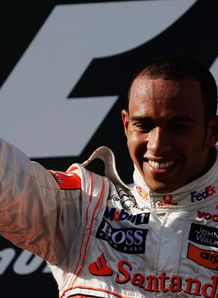 Related links
Teams
Drivers
Also see
Lewis Hamilton has made a flying start to the 2008 Formula One season after scoring a lights-to-flag victory in the Australian Grand Prix.
BMW Sauber's Nick Heidfeld finished second in Melbourne, with Williams driver Nico Rosberg taking the final podium position ahead of Renault's Fernando Alonso and Hamilton's McLaren-Mercedes team-mate Heikki Kovalainen.
Rosberg's team-mate Kazuki Nakajima finished sixth ahead of Toro Rosso debutant Sebastien Bourdais – the latter retiring shortly before the chequered flag was waved.
But pre-season pacesetters Ferrari had a disastrous visit to Albert Park, with world champion Kimi Raikkonen and Felipe Massa both retiring from an incident-packed race which produced just seven finishers.
Whether those incidents were brought about by F1's ban on driver aids such as traction control is open to debate, but there can be little argument about the cool manner in which Hamilton took the fifth victory of his career.
Starting from pole, he led BMW Sauber's Robert Kubica and Kovalainen off the line, with Massa falling right down the field to 17th after spinning at the first corner and Raikkonen conversely bolting up from 15th to eighth.
Meanwhile, the first corner also saw plenty of action towards the rear of the field, with Giancarlo Fisichella's Force India almost overturning after being assaulted by Sebastian Vettel – Jenson Button also out after being struck by the Toro Rosso.
Elsewhere, Red Bull's Mark Webber was clipped by the Super Aguri of Anthony Davidson, with both drivers also forced into opening-lap retirements.
Control
Massa pitted for a new front wing as the safety car was introduced and, upon resumption, Hamilton took control of the race, setting fastest lap after fastest lap as he built an 8.4-second lead by the end of lap 12.
He also led Raikkonen by some half-a-minute, the latter's progress being halted by the presence of Honda's Rubens Barrichello in seventh place.
Kubica was the first of the leaders to stop on lap 17, the Pole rejoining in eighth behind the Honda-Ferrari battle; Hamilton stopped two laps later and rejoined in fourth behind Heidfeld.
Raikkonen then found a way past Barrichello on the run down to turn three, while a promising run for Jarno Trulli in sixth place ended in retirement when his Toyota suffered a battery leak.
Smart work from his mechanics then saw Heidfeld pass Rosberg – who had been fourth – when both made their opening stops, the Williams driver subsequently also passed by Alonso for sixth.
Hamilton built a 12.5-second lead over Kovalainen by lap 25, with the Finn by now busily fending off compatriot Raikkonen – the Ferrari heavily fuelled for its first stint.
Raikkonen had a chance to pit when team-mate Massa had a sizeable coming together with David Coulthard when disputing 10th place on lap 26 – the Red Bull lurching drunkenly into retirement with its left front and right rear wheels awry.
However, while the Scot made his feelings about the incident abundantly clear on live television, Raikkonen stayed out as the safety car back came in on lap 30.
Looking to pass the heavier Kovalainen on the run down to turn three, Raikkonen instead ran wide and lost ground; as Massa retired following his collision, Ferrari's nightmare was complete as his team-mate rejoined in 12th place.
With Hamilton leading Kovalainen by 4.7 seconds – and Raikkonen by 40 – Bourdais had quietly climbed to sixth place ahead of Kubica and Alonso, the BMW Sauber's performance dropping considerably on soft-compound tyres.
Team-mate Heidfeld was having no such worries keeping Kovalainen honest in third place, with Rosberg fourth and Barrichello fifth.
Spectacular
Lap 43 saw both the world champion spinning as he attempted to pass Timo Glock for 10th and Hamilton making his second stop; the Toyota then retired in fairly spectacular fashion exiting turn 12, bringing out the safety car for the third time.
A refuelling mechanic was then pulled down by Barrichello's car as he was released from his pit box prematurely. Not that the Brazilian should have been there – the pit lane not being officially open at that point.
Like Barrichello, the pit lane rules meant that Kovalainen and Alonso were in danger of running out of fuel; unlike him, they stayed out on track but lost position heavily after finally stopping.
Thus, as Kubica pulled into the pits to retire after being hit from behind by Nakajima, Hamilton led Heidfeld and Rosberg at the restart.
Bourdais was by now fourth, with Alonso fifth ahead of Kovalainen – the Spaniard passing his McLaren replacement at the restart as the latter in-turn passed the misfiring Raikkonen.
He retired soon after, with another Ferrari engine failure accounting for Bourdais just three laps from the end. Alonso and Kovalainen thus moved up a place and proceeded to trade places twice on the final lap.
However, Raikkonen was later handed a championship point after Barrichello, who finished sixth on the road, was disqualified for exiting the pitlane illegally through a red light.
Race classification from the Australian Grand Prix at Albert Park in Melbourne on Sunday:
1. Lewis Hamilton (Britain) McLaren 1:34:50.616
2. Nick Heidfeld (Germany) BMW Sauber +00:05.478
3. Nico Rosberg (Germany) Williams – Toyota 00:08.163
4. Fernando Alonso (Spain) Renault 00:17.181
5. Heikki Kovalainen (Finland) McLaren 00:18.014
6. Kazuki Nakajima (Japan) Williams – Toyota 1 lap
7r. Sebastien Bourdais (France) Toro Rosso – Ferrari 3 laps
8r. Kimi Raikkonen (Finland) Ferrari 5 laps
r. Robert Kubica (Poland) BMW Sauber 11 laps
r. Timo Glock (Germany) Toyota 15 laps
r. Takuma Sato (Japan) Super Aguri – Honda 26 laps
r. Nelsinho Piquet (Brazil) Renault 28 laps
r. Felipe Massa (Brazil) Ferrari 29 laps
r. David Coulthard (Britain) RedBull – Renault 33 laps
r. Jarno Trulli (Italy) Toyota 39 laps
r. Adrian Sutil (Germany) Force India – Ferrari 50 laps
r. Mark Webber (Australia) RedBull – Renault 56 laps
r. Jenson Button (Britain) Honda 57 laps
r. Anthony Davidson (Britain) Super Aguri – Honda 57 laps
r. Sebastian Vettel (Germany) Toro Rosso – Ferrari 58 laps
r. Giancarlo Fisichella (Italy) Force India – Ferrari 58 laps
DSQ Rubens Barrichello (Brazil) Honda +00:52.453
(rank: r = retired, nc = not classified)
Fastest Lap: Heikki Kovalainen, 1:27.418, lap 43.
What the drivers said
Eurosport – Sun, 16 Mar 13:49:00 2008
Lewis Hamilton, unsusrpringly, "feels fantastic" after winning in Melbourne, while world champion Kimi Raikkonen has to settle for a single point, which is "better than nothing".
More Stories
Lewis Hamilton: "I feel fantastic – what a dream start to the season and my championship challenge. I am sorry not to have Heikki with me on the podium as a one-two would have been a great reward to the team. It"s nice to have Nico here though as we have not shared a podium since our Karting days with Team MBM (Mercedes-Benz McLaren)."
"It was a super race which I controlled from the beginning. I was able to drive at a steady pace without feeling any pressure which is always the ideal situation when you are leading. The three Safety Car periods meant that there was never time to relax, and the whole situation was a bit like Canada last year when I claimed my first victory."
Nick Heidfeld: "I am really, really happy and I have to say that being on the podium in Formula 1 is a really great feeling. It's been a while since I have been here, and it's great for the whole team as they have been working hard over the winter; they have done a good job and made some real progress. I gave everything I had today, but it was a tough race on a street circuit in the heat which didn't make it easy. The team deserves my thanks for this great result, and it really encourages me to feel that I can grow with Williams."
Nico Rosberg: "Being on the podium in Formula One is a really great feeling. It's been a while since I have been here and it's great for the whole team as they have been working hard over the winter. I gave everything I had today, but it was a tough race on a street circuit in the heat which didn't make it easy. The team deserves my thanks for this great result, and it really encourages me to feel that I can grow with Williams. It's a big step forward for the whole team. I think we have a solid car to start the season with."
Heikki Kovalainen: "Obviously my competitiveness was better than the result shows. Unfortunately the last Safety Car phase prevented me from finishing second. Nevertheless I enjoyed the whole weekend working with the team on such a professional high level. My start was okay but during the first stint I had a bit of graining on the tyres, but it didn't affect me too much. In my second stint and especially in the last part of the race my car was really good and I was flying."
"I had a great battle first with Kimi and then Fernando which I really enjoyed. I managed to get past Fernando but then as I tore off a visor strip on the main straight I accidentally hit the pit lane speed limiter button and Fernando managed to get past me again. I am pleased but also a bit disappointed as we were looking strong for a one-two finish today."
Kazuki Nakajima: "At the start, a car spun in front of me, turned side-on and damaged my nose. Then with the various safety car periods, the team did a great job to swap my strategy to a one-stop that put me in the points. Towards the end of the race I had another incident when all the cars backed up into each other and I damaged my nose again, but it was good to be able to demonstrate my physical fitness and my consistency, and I'm looking forward to Sepang which is a circuit I know better."
Sebastien Bourdais: "It's not the first time I've experienced disappointment in racing and it won't be the last. At the start I was down the order and running quite heavy and I was struggling a bit. But then I got the hang of things…to come from almost last to fourth was an excellent start."
Kimi Raikkonen: "It's really disappointing not to finish the race, but at least the point is better than nothing. I had an engine problem, the reason for which now needs to be analysed. The car was good and I had a good pace when I found a free track ahead of me. I spun a couple of times trying to pass those ahead of me, but the first time, with Glock, I put a wheel on the grass and the second time, with Kovalainen, I was a bit too optimistic. This result is obviously not the best start to the season but it is a very long one and we are well aware that we are capable of recovering from far worse situations than this. We have to put everything in place and then we will be really competitive."
Timo Glock: "Given our starting position, this was always going to be a difficult afternoon's work. I had contact with two other cars at the start, but despite our heavy fuel load we were able to make up some ground in the early part of the race. Still, the car felt a bit strange in terms of understeer and that's what we have to work on to improve [it]. After the pit-stop it was hard work to drive and my race ended with the crash. I feel fine, but I'm disappointed and we will hope for better fortunes next week."
Felipe Massa: "A horrible start to the season. We had engine problems which is unusual for a team like ours. We have to understand what happened and react immediately. I was fighting my way up the order all race long. At the first corner I lost control of the car while battling with Kovalainen and ended up off the track. Then I moved up the order and could have finished in the points. The incident with Coulthard? I was on the inside and he closed the door on me, probably because he hadn't seen me. Our championship will have to start again in Malaysia. We know we have a good car we have to work to be able to use it as intended."
Jarno Trulli: "From early on in the race the battery was too hot. Then when I stopped in the pits it just gave up. That was a pity because the car felt good and I was doing pretty well; I was running comfortably in the points, so it is unfortunate to lose out on a scoring start to the year."
Adrian Sutil: "A big disappointment, especially when I watched the race afterwards, but it was good while it lasted. In the opening laps I could stay with the guys in front of me and could overtake to get up to 13th position, but then I had a hydraulic pressure problem. I had to go back to the pits, so at that point my race was over. We have to hope for more in Malaysia, but I think we showed an improvement over last year, particularly over the longer runs in practice, so I am confident we can really do better there."
Giancarlo Fisichella: "I am very disappointed as I lost the race at the first corner because another driver came in like a kamikaze into my car and it was very frustrating, especially considering a race like this where there was a possibility to score lots of points. It was a good opportunity and I am really disappointed. Let's hope for more in Malaysia."